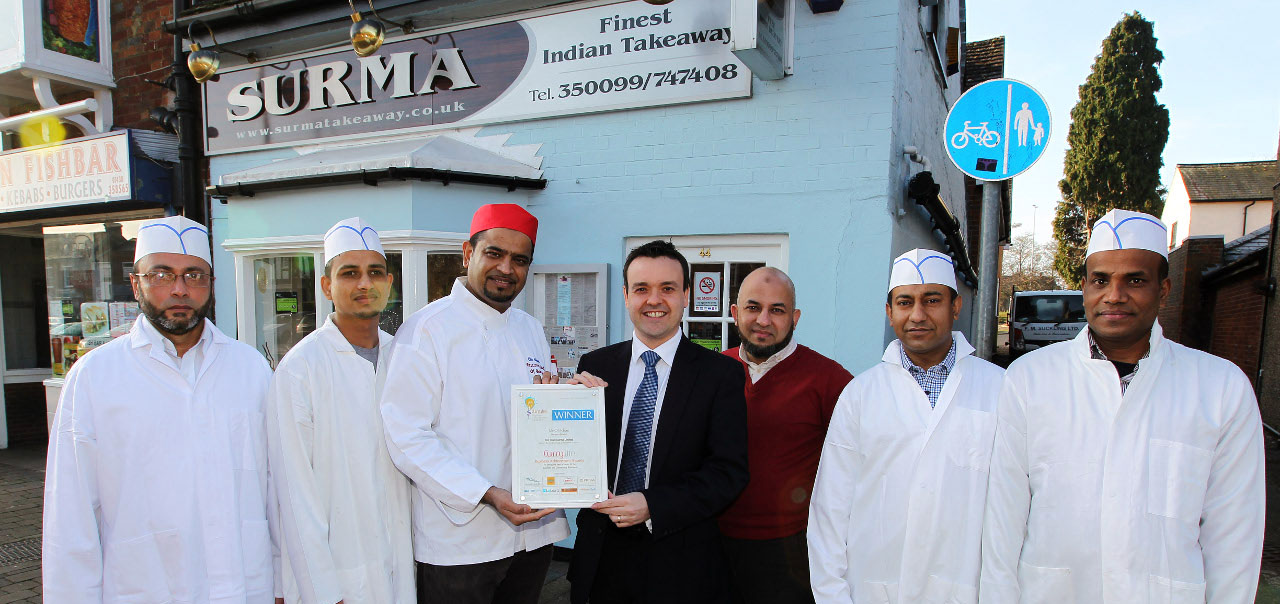 British Fusion Food Festival for 2005 / 2006 / 2008 at which he was one of four specially chosen British chefs. He also took top honors at the BFFF in India on same years.

Oli's many achievements gained him 'Best Caterer of the Year 2010' at the golden jubilee celebration of Bangladesh Caterers Association UK who represent 12000 Indian Restaurant in the UK and "Best Takeaway in East of England Region 2011" by Spice times Restaurant awards. 2012 Oli's creativity of Onion Bhajee hit the headline in the news paper where he has created 10kg weight of Onion Bhajee for Taste of Stevenage. Oli Khan Business Achievement Award for being the 'Best Achiever in the Business and Community Relations' by Curry Life Business Awards 2014.

Added to this is his fanatical devotion to hygiene (Scores on the doors) in 2007 which has won his Surma takeaways in Luton FIVE STAR in food hygiene first Indian takeaway in the UK to get five out of five stars, later in 2008 Surma in Stevenage got five stars in food hygiene and are holding the five stars to date. The media, too, has heaped praise on his tasty, health enhancing products in the most stringent hygiene conditions.

Oli expresses an admirable devotion to his community and fellow professionals, adding that his achievements would not have been possible without the influence of his parents: "In my opinion, the best chef in the world is my mother. She & my wife inspired my love for cooking, my father made me want to pursue it as a career. I started working in the kitchen in a very young age. After training as a curry chef, I eventually opened my own restaurant at the age of 17".


Oli Khan's Interviews are often published by main stream print and electronic media worldwide, some link attaches

News Paper:

Financial Times, "The great British curry crisis" http://tiny.cc/86iz7x
The Economist, http://www.economist.com/news/britain/21588077-future-curry-houses-looks-grim-giving-up-gosht
The Guardian, "No one in Oli Khan's family had ever lived in Scotland, or anywhere near it. But when, aged 23, Khan first set eyes on Linlithgow, a modest West Lothian town near Falkirk"
https://www.theguardian.com/lifeandstyle/2017/jan/12/who-killed-the-british-curry-house?CMP=share_btn_link
The Mirror, This restaurant chain now sells the most curries in Britain - who it is may surprise you
http://www.mirror.co.uk/news/uk-news/restaurant-chain-now-sells-most-7145486#ICID=sharebar_facebook
The Sun, Aloo good bye to Friday nights as pubs and curry houses close
http://www.thesun.co.uk/sol/homepage/news/6866639/Pubs-and-curry-houses-closing-in-record-numbers.html
USA Today, The U.K. has a serious curry problem http://usat.ly/1iHGeWZ
Spanish News Paper "EL-PAIS", "Brexit' para salvar el curry" Oli Khan
http://economia.elpais.com/economia/2016/12/15/actualidad/1481818545_433256.html
TV News:
SKY News, Live debate discussion about M & S Launched a new product "Egg Royale" Readymade meal. with presenter Colin Brazier & Claudia-Liza Armah alone with food writer Anna May Mangan.
https://www.facebook.com/olikhan4/videos/1270673336322803/
TRT TV world news, Thomson "Reuters Curry Story"
https://vimeo.com/154301047
Canadian TV (CTV) National News, Loss of a delicious tradition http://ctv.news/s64WtpN
ITV London, "The Late Debate" https://www.facebook.com/Oli.Khan.UK/posts/1067523749960452
CNN news, Britain's curry chefs spice up Brexit immigration debate http://edition.cnn.com/2016/06/11/europe/brexit-britain-eu-referendum-curry/index.html
Oli's Recipe:
Luxury hospitality magazine page 18
http://issuu.com/luxuryhospitalitymagazine/docs/luxury_hospitality_magazine_october
ABF The Soldiers'Charity
https://www.soldierscharity.org/events/the-big-curry/#recipes
Luxury Hospitality Magazine December 2016 two recipes!
https://issuu.com/luxuryhospitalitymagazine/docs/digimag_-_lhm1116
Surma, http://www.surmatakeaway.co.uk/recipe
Thank you for reading the page and visiting Surma Takeaway today. We hope you will enjoy your meal. Please feel free to leave a feedback. We value all our customers' comments and opinions.
- Surma Managements